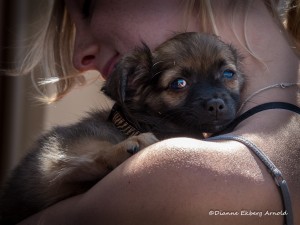 No further harm, endangerment or imminent risk while in rescue care.
Immediate provision of qualified veterinary care proportional to risk and disease presented at time of rescue.
Bathed and groomed at the earliest opportunity and as needed, with minimum twice daily feedings of appropriate food for the age, breed & health.
Easy access to clean water, kept in sanitized area with regular removal and cleaning of excrement and urine soaked areas.
Twice daily walks for a minimum of 30 minutes each and attentive human contact and play throughout the day.
Transport arrangements in keeping with the animal's welfare and safety as paramount considerations in planning & execution.
Spay or neuter and micro-chip with updated and correct paper work following each relocation until final adoption.
Adoption home screening for safe, relevant and appropriate placement with the animal's welfare a first consideration.
Rescue group is a forever God-parent with unconditional "open arms" to receive the adopted anytime should they be subsequently abandoned, neglected, maliciously treated, injured or suddenly unwanted.
Author: Dawn & Bruce Beattie